With this plugin you have the possibility to use the VPN provider PureVPN on your box, only possible with a subscription of the provider.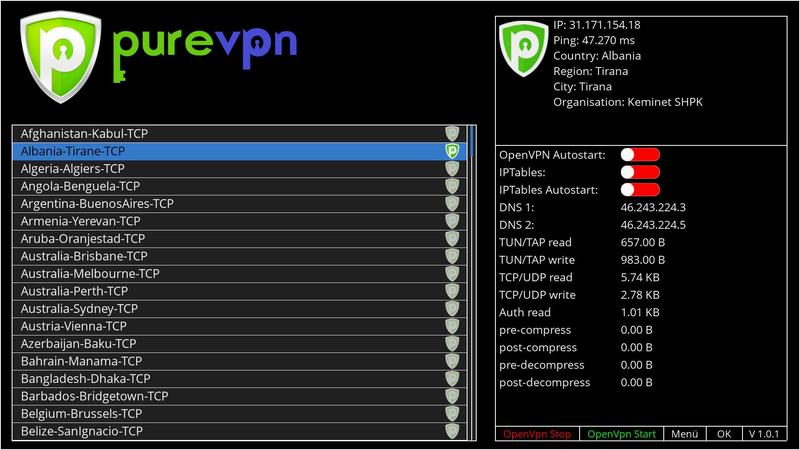 murxer wrote:
Features:
Configs are imported in the menu via the green button (no access data is required for this)
resolv-update-conf is also included in the plugin, so the DNS servers of the provider are always used
IPTables – Killswitch is still disabled in the plugin (here the IPTables rules are still missing)
You can choose between TCP and UDP in the menu
I deliberately disconnected the TCP and UDP servers, as there are more than 160 servers each.
I would like to add a favorite list to the plugin.
Please make sure that you disable other VPN plugins and also turns off the autostart.
Also, no configs are included in the plugin, you have to import them then in the menu.
Installation:
Packages depending on OE on the box after / tmp FTP
OE2.5 OE2.6:
Code:
apt-get update
dpkg -i /tmp/*.deb
apt-get -f install
OE2.0:
Code:
opkg update
opkg install /tmp/*.ipk
With the deb version, there are sometimes problems with the connection.
You will notice that although VPN is running but you have no Internet access.
Also, it usually brings nothing to build a different connection.
Here only a restart of the box helps, then you can change the connections again without problems.
Thanks murxer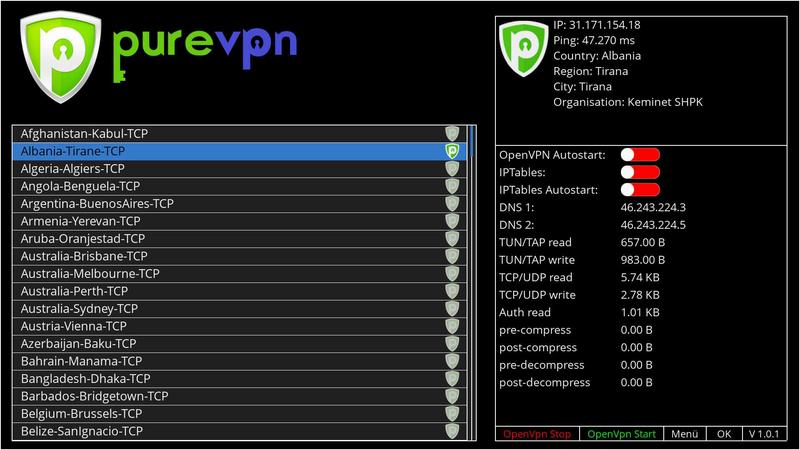 enigma2-plugin-extensions-purevpn_1.0.4_all
-version only for Python 3 images