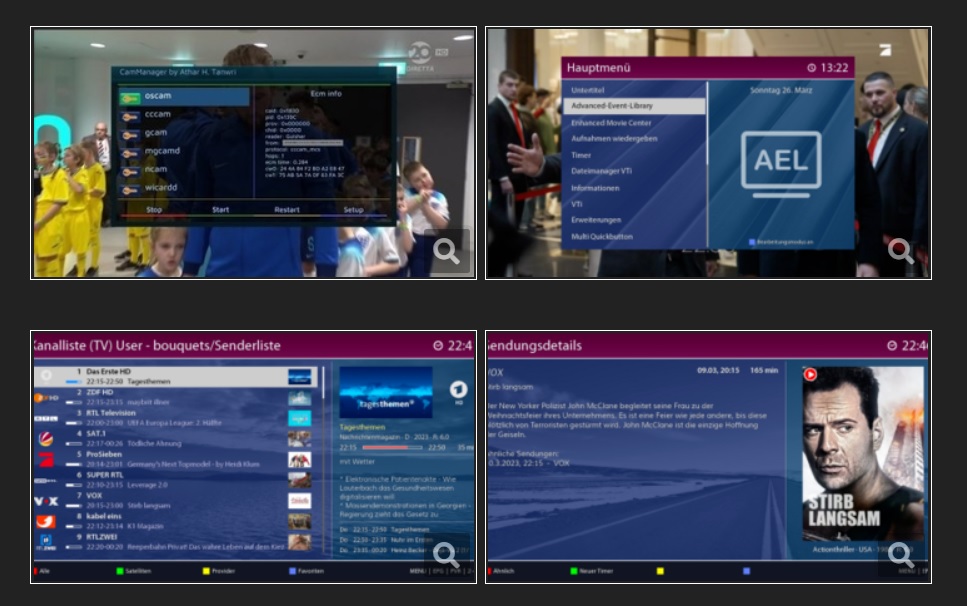 Skin ObelixFHD (AEL-Version) VTi 15
Attention: The skin requires the previous installation of the plugin Advanced-Event-Library (AEL)
Highlights:
– Full-surface display of the AEL-Moviewall.
– Different overlays under VTI->Sett. ObelixFHD->Font selectable
– UserDef style for easier color adjustment
– Different transparent modes
– Metrix-like design
Skinned plugins (integrated in the skin or as skinpart)
– almost everything that is skinned in the default skin
– AEL R124 (Advanced Event Library)
– TMDb V1.0
– FritzCall V1620
– FritzDect V1.8.8
– PlutoTV V2022103
– ARD-ZDF-Mediathek V1.4 (no Mini-TV)
– MovieInfo V3.0.8
– GlobalSearch V1.21
– VTiConfigHelper V1.x
– EMC git20210126 (AEL cover).
– YouTube h1git1090
– BetterCrash V1.x
– and more
EMC Notes:
– The EMC version of the feed is outdated and needs to be updated e.g. with the plugin: GitHubPluginUpdater, otherwise you will get skin errors when using it
– EMC settings (recommendation):
– Use original EMC skin = No
– Horizontal alignment of date = Right
– Horizontal alignment of number, size, description = Right
– Default color for marked movie = Black
– Note: Cover/MiniTV settings have no effect
Notes:
– Integration of weather plugins is currently not planned
– Changes of posters/cover/backdrops in EMC and in MovieSelection (MovieList) only possible via AEL editor!
– In case of an update ObelixFHD will be completely uninstalled before. So think about a backup before.
shaper.png (AEL)
– Is normally black-transparent and is used as background of the movie title on poster ads in AEL screens. The shaper.png is also often used as the main background in AEL screens for other skins.
– In the attachment is a blue shaper.png, which fits better to the color of the skin
– Simply move the shaper.png to the folder /usr/share/enigma2/AELImages/.
– Do not delete the old shaper.png before, but rename it!
Update-Info V1.1
Added:
– SerienRecorder V4.6
– RakutenTV 20230331
– Foreca V3.2.7
Thanks @ MyFriendVTI